G9TRO was created to bring connected, cooperative technology solutions to communities through low risk, high benefit partnership models. go9Tro Wireless, is a IoT Solutions provider, that empowers people to share data validation solutions, and profit from data mining of mobile devices in 100 countries.
G9TRO Wireless Network empowers traditional companies as well as regular individuals to get a new revenue stream by using their technology and joining the new world economy.
In return for sharing mobile network to the userbase, the individual or company sharing the mobile date is rewarded with ethereum tokens.
Exchange Listing on TarmEX.io
G9TRO Crowdfunding Platform (G9TRO) was listed on the the TarmEX.io Exchange on February 03, 2021, at 10:00 A.M UTC.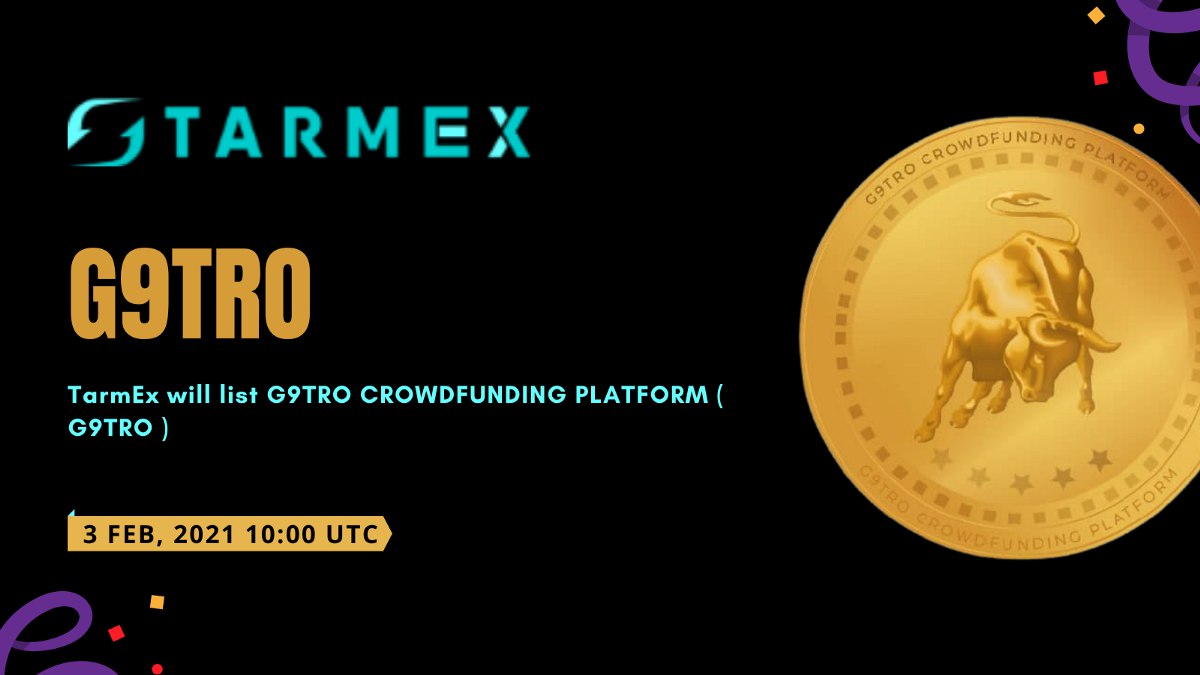 The token is listed on the exchange with the following trading pairs:
g9tro/BTC ,
g9tro/ETH
g9tro/USDT
About TarmEX.io Exchange
Tarmex.io claims to be a regulated multi-functional cryptocurrency exchange established in 2020 which is currently serving over 100k customers worldwide.
Tarmex offers advanced order matching algorithms, a high-liquidity order book, favorable conditions for market making and high-frequency trading.
About G90TRO
Everywhere we go we see free wifi signs in most local businesses. Free wifi can be found everywhere, but what if you could earn cryptocurrency just for connecting to free wifi, what if your location could advertise on every smartphone within one hundred twenty feet of you?
The exciting benefits of G9TRO
There are a number of benefits and incentives for the G9TRO users to use their product and share their network for g09Tro ethereum tokens.
Easy to use – G9TRO have developed their product to be easy to use for the masses, which is important for adoption. Start off by heading to the g9tro wireless page here to learn how: https://go9trowireless.mydevices.com/home
Free to use – The mobile technology can be used for free. Users can share and connect to the mobile networks for free while also getting rewarded with ERC-20 tokens.
Affiliate Marketing – Individuals can not only earn tokens by using and sharing mobile networks through the platform, affiliate marketers also have the opportunity to earn ethereum tokens by referring other people to use their technology and products.
Valueable data – Mobile device data registrations capture social data, analyze visitor metrics, and automate loyalty marketing.
Learn more about the project at the project website here: https://www.go9trowireless.com/